iArchitecture
Tribe: All Tribes
Tribal Contact: Travis Suazo
Project Type: Indigenous Architecture
Location: Indian Pueblo Cultural Center, Albuquerque, NM
UNM Contact:Michaela Shirley
UNM Faculty:Ted Jojola and Lynn Paxson
Students: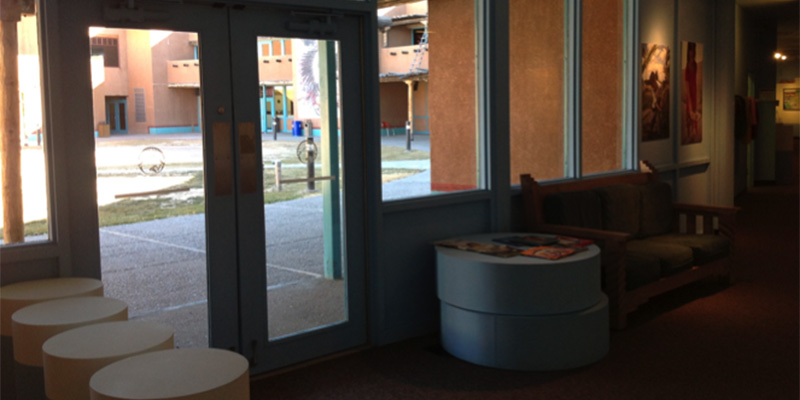 ---
Project Summary:
To date, there has been no curated exhibit on the topic of contemporary Pueblo architecture.  Instead, the topics have focused only on traditional historic architecture.  This exhibit is intended to advance the record and highlight the new buildings that have been designed and constructed on Pueblo Indian reservations.  In particular, it wants to showcase the work of Pueblo designers and architects who have recently emerged and are practicing in the field.
The audience include the patrons of the Indian Pueblo Cultural Center (IPCC).  IPCC is operated and managed by  the 19 pueblo nations of New Mexico and Ysleta del Sur Pueblo in El Paso, Texas.  The exhibit is also intended to showcase regional examples of how the SW Indigenous peoples have contributed to the identity and design traditions in the region.  Lastly, the exhibit will serve to inform the architectural profession and educators of the role and value of  Pueblo designers in contemporary practice.
The overall research has been accomplished.  This includes 20 video interviews with Pueblo designers.  These have been transcribed and indexed for content.  In addition 5 major traditional and contemporary Pueblo buildings have had lidar scans done and are being processed to stage immersive exhibits as part of the exhibit.   The exhibit will be organized around the  following themes:
Ways of Creating
Materials, Textures & Color
Sacred & Everyday Life
Traditional Knowledge & Worldviews
Environmental Science
Cultural Identity & Representation
The 2 year exhibit will be housed in a 22,000 square foot exhibit space at the IPCC and will include a traveling museum component.  Interest has already been expressed by the National Museum of the American Indian in Washington, D C.  The exhibit is slated to open July 2022 through December 2023.  The cocurators are Distinguished Prof. Theodore (Ted) Jojola PhD, Prof. Of Architecture, Lynn Paxon, AIA, and IPCC Museum Chief Curator Rachel Moore.