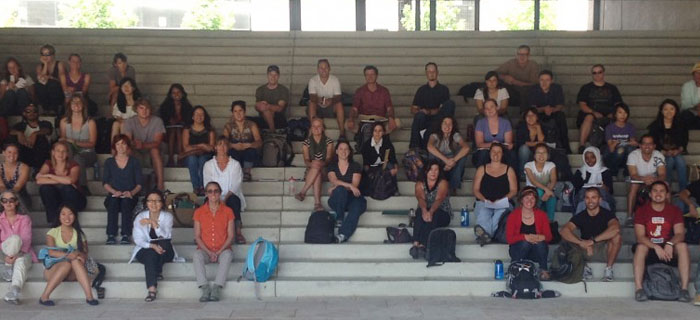 Student Organizations
Our student community is active in a number of statewide and national organizations including the  Student American Society of Landscape Architects (SASLA), American Institute of Architecture Students (AIAS), American Planning Association of the Univeristy of New Mexico (APA UNM), Community and Regional Planning Graduate Student Association (CRP GSA), Tau Sigma Delta National Honor Society, and the American Indian Council for Architects + Engineers (AICAE). For more information on how to get involved see below.
The Mission of the UNM Student Chapter of the American Indian Council of Architects and Engineers (AICAE) is to provide a support network of American Indian students in the School of Architecture and Planning, School of Engineering, and other design fields at the University of New Mexico.
AICAE Student Officers 2012/2013
Geraldene Blackgoat - President
blkgoat@unm.edu
Alfred Kahn - Vice President
akahn@unm.edu
Theo Edaakie - Secretary
edaakietj@gmail.com
Nick Nelson - Treasurer
unionick12@gmail.com
Navida Johnson - Undergraduate Representative
ngrogan@unm.edu
Prof. Ted Jojola - Faculty Advisor
tjojola@unm.edu
Mission Statement
The purpose of the SNAGS is to better represent growing concerns and interests of graduate students at UNM.
Goals
Our goals are to:
Provide a network of graduate students with faculty members among the American Indian population on campus and surrounding communities

Promote professional, scholastic & social activities among its members

Promote cooperation and communication between students & faculty

Represent the views of Native & non-Native graduate students at UNM

Provide support across the disciplines for those working on dissertation, thesis, or research

Promote issues of professionalism for those who plan to pursue a career in academia, to utilize NA faculty for guidance, lectures, or meeting one-on-one

Promote & maintain the prestige & high standing of UNM

Encourage & promote the representation of New Mexico's cultural & ethnic diversity at UNM

Mentoring & meeting with Native & non-Native graduate students who are new to UNM.
Membership
Every graduate (part-time or full-time, Native or Non-Native) student at the UNM is eligible to become a member of SNAGS and may so register the First-Year during orientation or any time thereafter.
The American Planning Association, UNM branch (APA UNM) is the student branch of the American Planning Association of New Mexico (APA NM). The Mission of APA NM is to improve and promote the quality and standards of planning in New Mexico.
Vision statement:  We better the communities of New Mexico by: increasing awareness of planning and its impacts, training leaders to use planning processes, developing professionals, and promoting the use of solid planning principles. 
APA UNM Executive Board 2014/2015:
Valentine Fisher - President
vatony@unm.edu
Nathan Todd - Vice President
nate08@unm.edu
Raquel Rivera - Secretary
rrivera2@unm.edu
Whitney Kraner - Treasurer
wkraner@unm.edu
Derick Garcia - Student Representative
dsgarcia@unm.ed

Cody Scott Brown - Member at Large
codyscottbrown@gmail.com
Information coming soon!!
Student Representatives:
x
x
x
x
Student Organizations News